The 'MUST-DOs' in Koh Samui
September 30, 2017
Koh Samui – a hive of activity – has too many choices to offer. From snorkeling through the vivid sub-aquatic life to relaxing at the exquisite spas, and from elephant trekking to partying hard on the beaches – the list of best things to do in Koh Samui seems endless.
Here is a hand-picked list of the best wellness retreats as well as heaps of fun activities to do in Koh Samui. Scroll down patiently. There is something for travelers of all tastes and interests. A short weekend getaway doesnt sound like a bad idea too!
1. Relax Renew Retreat with Kamalaya
A gentle and relaxing wellness holiday awaits you.
Kamalaya's Relax and Renew program is an ideal choice for anyone who needs to slow down and take a step back from their busy lifestyle. Far more than just a relaxing wellness holiday, Relax and Renew will help you to de-stress and regain a sense of balance in your life, leaving your mind, body and soul feeling suitably replenished. You will experience a wide range of authentic healing therapies alongside a variety of holistic activities to boost depleted energy levels and enhance the immune system, thus reducing feelings of stress and burnout. Additional (optional) alternative medicine consultations, complementary treatments and private sessions may be recommended depending on your individual needs. Above all, Relax and Renew is ideal for anyone seeking a gentle, relaxing wellness holiday in a multi-award winning Wellness Sanctuary set in stunning natural surroundings on the tropical island of Koh Samui, Thailand.
Book your well deserved wellness experience now here.
2. Revitalize Your Energy Retreat
Discover a unique holistic style that helps you balance mind, body and spirit, along with enough downtime for you to relax and regenerate at your own pace. All ages and all levels are welcome!
Our location, on the beautiful island of Koh Samui in Thailand, definitely adds to the process of de-connecting with the ratrace. The sunny tropical climate does wonders for the mood and the beautiful Lamai Beach is a perfect backdrop for meditation, or an intense workout! Check out the benefits of this wellness retreat here!
Discover the benefits of a daily pilates practice in a magical environment.
Jey dance pilates is so excited to announce the new retreat of Jey, pilates, wellness & wellbeing, holistic health experience and much more. Jey, pioneer of Wellbeing in Shanghai, former ballerina and Pilates instructor, will be leading you through Pilates classical method and her technique of strong and precise workouts.
Pilates is a whole-body method that will develop your core strength, flexibility, posture and musculature in a safe yet very deep way.
The retreat has been carefully programmed to ensure plenty of time for both learning and for enjoying Koh Samui. Also tailor made for families where one member is doing the retreat, while the other can enjoy accommodation, free time and a nursery option for families for babies and young kids. There will be many extra workout classes for those keen to keep fit during your stay, including Pilates, Stretches and Meditative Time. Delicious organic local thai food and clean living meals will be prepared daily by our organic community garden.
Discover this pilates retreat here now!
4. Yoga Holidays Retreat with Absoulte Sanctuary
These Yoga Holidays are designed for anyone wanting a healthy, invigorating holiday but doesn't want to miss out on their daily yoga practice or for beginners who simply just want to take up yoga. We offer complete Yoga holidays Packages ranging from 5 to 10 days with a wide range of yoga classes taught by internationally-trained yoga teachers. Think of it like your own customized yoga retreat!
Whether you are a beginner or a dedicated practitioner, Absolute Sanctuary as part of the Absolute Yoga Group, is well placed to help you enhance your practice with unlimited daily classes combined with meals & daily massages through our Yoga Holiday Programs. Up to 25 classes are conducted a week in a beautiful studio featuring a wide variety of styles such as Hot, Flow, Hot Flow, Pranayama & Meditation, Yin, Yin-Yang, Hatha, Pilates, Yoga Pilates and a special Introduction to yoga classes for pure beginners. Find your balance physically, mentally & spiritually with this holiday program. Choose from 5, 7 and 10 day options. Longer or shorter lengths are available upon request.
Book it now here!
You deserve to Be Good To Yourself. Om & Away to re(treat) yourself a well deserved wellness experience is one of the best investment you can make for YOURSELF. Discover more wellness experiences here.
If you have more time, explore these fun activities that Koh Samui has to offer as well!
Snorkeling and Scuba Diving in Koh Samui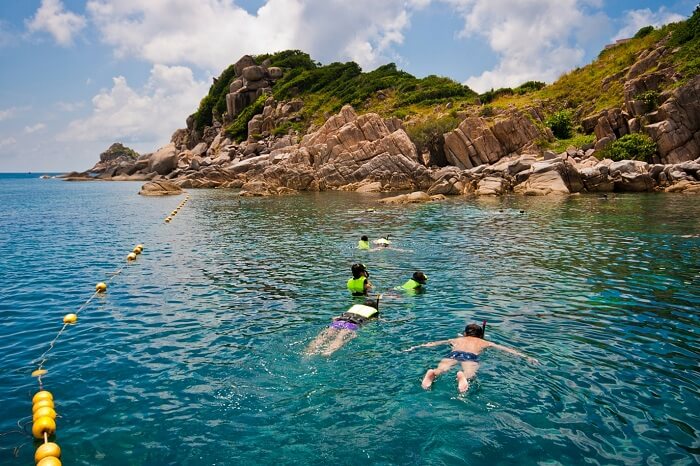 Gliding through the warm waters of the Gulf of Thailand, viewing the exotic marine & coral life, and riding the speedboats before diving in the clear waters offer aquatic freedom in the wondrous underwater world like no other activity. This makes snorkeling and scuba diving the best things to do in Koh Samui.
Where to try: Snorkeling tours to Koh Tan, Koh Nang Yuan, Koh Phangan, and Angthong National Marine Park are offered from Koh Samui. Clear waters off the Chaweng beach and the Coral Cove are best suited for scuba diving.
Kitesurfing in Koh Samui
Kitesurfing, or kiteboarding as it is more commonly known, is one of the most adventurous things to do in Koh Samui. The kitesurfing spots in Koh Samui offer flat and shallow waters to surf safely. The absence of jellyfish, rocks, waves, jet skis, and speed boats make the conditions just ideal for this sport.
Where to try: Hua Thanon and Nathon
Sea Kayaking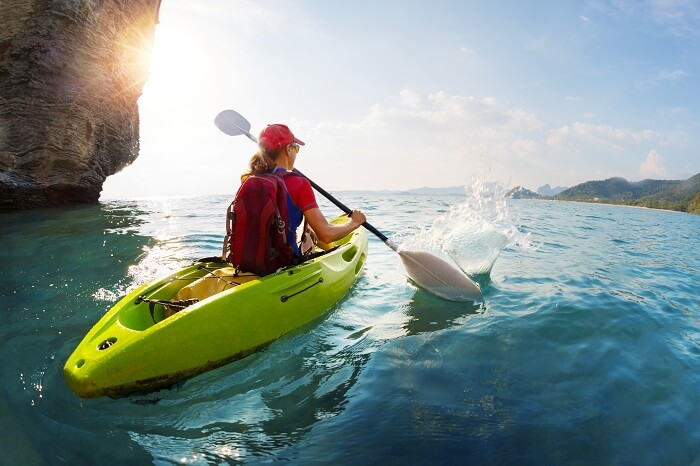 Kayaking is one of the best things to do in Koh Samui for couples, solo travelers, friends, and families. Among the most popular water sports in Koh Samui, kayaking offers a chance to explore the crystal clear waters, surrounding islands, secluded beaches, and overhanging coves.
Where to try: A number of Kayaking tours are offered from Koh Samui. But the kayaking tours to Angthong National Marine Park, Koh Mudsum, and Koh Tan are most popular.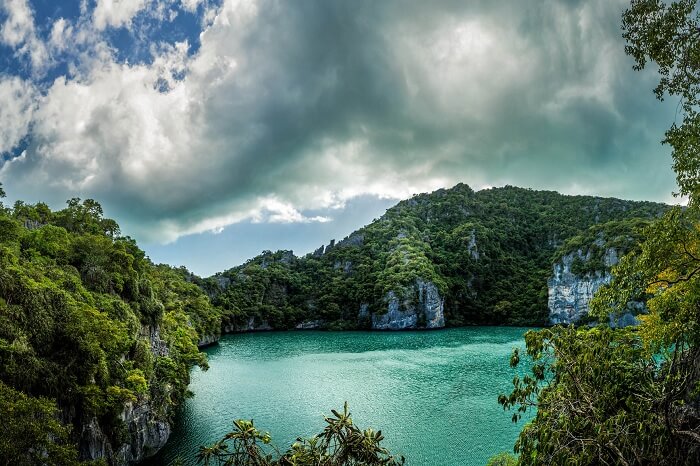 Swimming at Namuang Waterfalls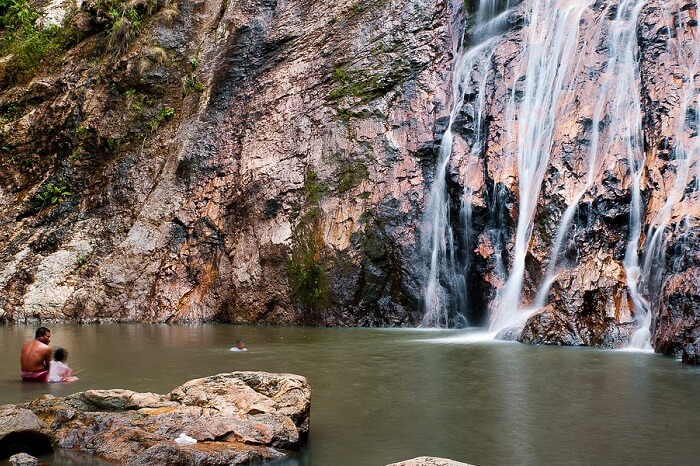 Koh Samui is blessed with some beautiful waterfalls. These include the Wanorn Waterfall near Lipa Noi and Hin Lad Waterfall near Nathon. But the two Namuang waterfalls are most famous. Swimming at the cool and fresh waters of the natural pools of the Namuang waterfalls is one of the most relaxing things to do in Koh Samui – for couples, solo travelers, and even families.
Elephant Trekking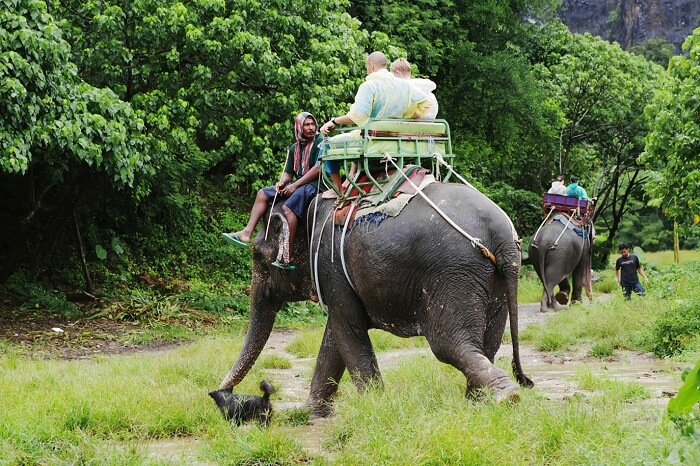 Elephant – a symbol of strength and royalty – is the national animal of Thailand. The island of Koh Samui has a vast stretch of tropical forest in its centre. A journey through the forest on an elephant back takes you through exotic flora & fauna, refreshing waterfalls, and verdant forests.
Off Roading to a mountain top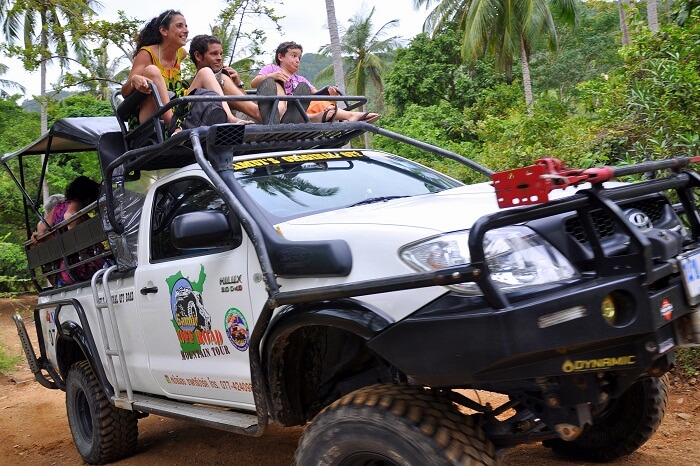 There are many options to cover the major tourist attractions in Koh Samui. Of these, motorcycle tours and jeep safaris are most popular. The Offroad 4WD Jeep Safari takes you through both popular and lesser known places of the island. From the beachside Grandmother & Grandfather Rocks to the mountaintop viewpoints, the jeep safari covers it all.I
Shopping at the night markets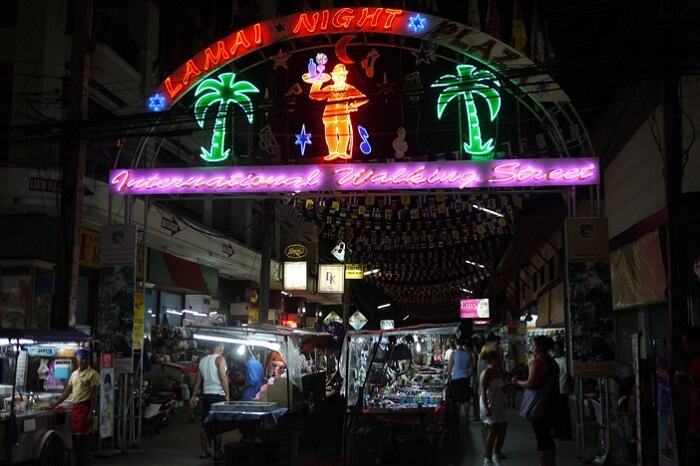 Shopping in Koh Samui goes beyond the chic malls. Yes, the Central Festival Mall in Chaweng and other malls in Koh Samui are of the highest standards. But the Lamai Night Walking Street and Chaweng Night Market make shopping in Koh Samui a unique experience.
Unlike the other temples, Wat Khunaram is famous for the mummified monk that is kept on display here. The mummified body of Loung Pordaeng is kept in a glass casket in the temple. Visiting the mummified monk is a unique experience offered at this tourist attraction of Koh Samui.
There you have it! Go and Be Good To Yourself now lovelies!
You May Also Like
November 7, 2018
July 3, 2019